Bully Blocking ® – Evelyn M. Field FAPS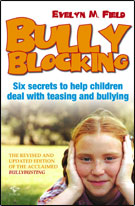 Paperback Price $22.75 (plus p&h)
More information about the book
Note: The 'Buy Now' button takes you to an external website where the book may be purchased from Amazon.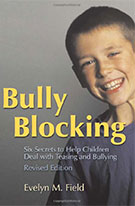 Buy the bestselling book!
Schools cannot protect every child. This clinically proven, self-help book provides a child with bully blocking skills as well as hints to develop social and emotional resilience. It's useful for parents, teachers, therapists and schools.
'Hints for dealing with bullies at school' – Evelyn M. Field FAPS
Some children don't like to read. However, this carefully constructed 14-page e-leaflet condenses years of experience and research to enable children to use simple, easy-to-read, bully blocking skills (Taken from "Bully Blocking"). This E-leaflet gives children the basic skills to block bullies.
14 pages.
Can be used by parents with Bully Blocking ®
Evelyn M. Field is available for consultation by phone, Skype or FaceTime.
Please call: (03) 9525 0555 or email: efield@bullying.com.au to make an appointment.
School Bullying Products